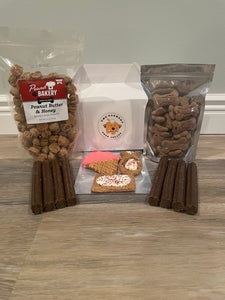 Please complete this questionnaire so we have all the relevent information about your dog.  This is required.
Subscription boxes ranging from $29.99 - $39.99 per month for the Regular/Treats Only boxes
3 month plan receives a 5% discount and you will be billed quarterly
6 month plan receives a 10% discount and you will be billed semi-annually
Each Treats Only box contains:
1 16oz. Bag of Treats
1 Assortment of Seasonal Bakery Treats
1 8oz Bag of Pound Bakery Bulk Treats
1 Assortment of Pound Bakery Chews
1 15% coupon to add anything additional from our website to your next monthly box.
$25 Barkery Gift Card if you refer someone who signs up for a 3 month or greater subscription
Free Delivery for our Long Island customers.
Your subscription will renew automatically.