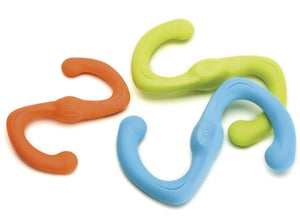 BUILT FOR GENTLE CHEWERS 
Flexing to twice its length during tug-o-war, this S-shaped eco-friendly dog toy is a favorite among pets and their people. The smart design makes it fly far and dogs love to carry it around in their mouths as it's lightweight but tough. Great for fetch or flinging, Bumi is one of our most beloved toys. 
Sizes: Small - 8"/20cm; Large - 9.5"/24cm
*each size also available in case packs of 12 assorted
Why dog owners will love Bumi:
Flexes to 2X its length
Designed for far flung games of fetch
Easy-to-grab S-shape 
Dishwasher safe
Latex-free
FDA-compliant (meaning it's safe to eat off of)
Love It Guarantee™
Recyclable
Floats
BPA-and-phthalate-free
Made in the U.S.A.
West Paw guarantees every product they manufacture in Montana – that's all of them.  If you are unhappy with the performance of a West Paw product they offer a one-time replacement or refund for their purchase. It's that simple.