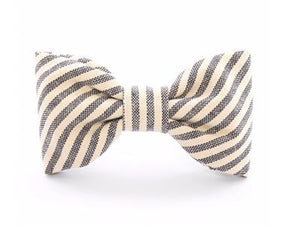 The Charcoal Stripe bow tie is perfect for the classic gentleman.
Dark gray stripes on an ivory background
Attaches to most standard-width collars with elastic loops
Two loops for added stability (no more bow tie droop!)
Choose from two sizing options (compared in the last photo): Standard (4" W x 2.5" H) or Large (5" W x 3.5" H).
Machine wash in cold water and air dry

Proudly handmade in America using the highest quality fabrics and meticulous attention to detail. Please note, every bow tie is unique and pattern placement may vary.
A perfect gift for new puppies, birthdays, weddings, Christmas and other holidays...or just because.