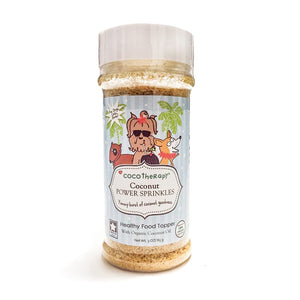 Coconut Power Sprinkles™ is the only food topper that is not protein based, and is great for pets on restricted protein diets.  Great as a flavor booster, appetite stimulant, for picky or anorexic pets, recovering or debilitated pets, pets that need extra energy, or as a healthy treat. Simply sprinkle on food!
Benefits:
Irresistible taste

Flavor Enhancer

Appetite Stimulant

Increased Health

Provides Extra Fiber

Supports skin and coat health

Digestive support

Support for weak or anorexic pets

Recovery for sick or inappetent pets

Supports healthy weight

Provides easily digested source of energy

For pets on a restricted protein diet

Digestive support
Ingredients: Organic Coconut, Organic Coconut Nectar, Organic Virgin Coconut Oil, Organic Apples, Organic Lemon Juice

All ingredients are 100% human grade, 100% USDA certified organic, and non-GMO.

Coconut Power Sprinkles are: Raw. Grain and gluten-free. Vegan (no eggs or dairy). Do not contain trans-fat, artificial colors or flavors. Low glycemic (Glycemic Load: 1).
Net weight: Each bottle is 3 oz / 85 g

MADE IN THE USA.

THESE ARE MADE IN A PEANUT FREE FACILITY