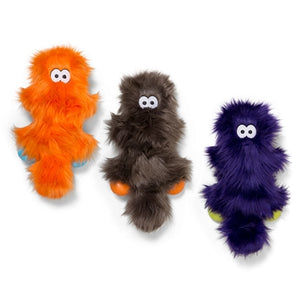 BUILT FOR ROUGH PLAYING
Rowdies™ is West Paw's new collection of award-winning, durable plush toys for dogs. Each toy was designed for specific sized dogs in mind. No matter if you have a toy Terrier or a massive Mastiff, West Paw has created dog toys sturdy enough to hold up to rough play.
West Paw uses their innovative Zogoflex® material to create designated "chew zones" for dogs who love to gnaw, chomp and chew. The tough plush HardyTex™ fabric has been reinforced with a mesh backing for enhanced durability. Rowdies combines the extreme durability and safety of our Zogoflex® material with our tough chew zones along with reinforced mesh backed fabric, HardyTex to create a furry plush toy that lasts. Backed by our Love It Guarantee™.
What type of dog is Sanders best for?
The biggest of the bunch, Sanders gives plenty of distance between hands and jaws. Perfect for tugging, light chewing and shaking. Perfect for medium to large dogs.   
Size: Width 6.75 in/17 cm; Height 11 in/28 cm
Dog Owners Will Love:
Made in the USA
Tough durable plush dog toy for medium to large dogs
Guaranteed and Built for Rough Play
Reinforced HardyTex™ fabric
Machine washable and dryer safe
West Paw guarantees every product we manufacture in Montana – that's all of them.
If your customers are unhappy with the performance of a West Paw product they purchase from you, we offer a one-time replacement or refund (per toy design) for their purchase. It's that simple. Visit WestPaw.com for more details.