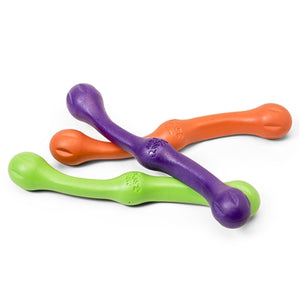 BUILT FOR MODERATE CHEWERS
West Paw introduces their third iteration of award-winning Zogoflex toys for dogs, Echo. Made from the same tough stuff as classic Zogoflex® and Zogoflex Air®, Echo is lighter due to its hollow construction yet super durable due to it's extremely pliable material that bends with the compression of a dog's mouth.
Built for moderate chewers, Zwig is safer than a wood stick and has a twist that makes it perfect for fetch and water play. It's 13.75" length makes for a safe distance between hands and jaws for tug-o-war. Perfect dog toy for two dogs. Super bouncy and deliver a satisfying spring and sensation to dogs who love to chew. Like all of West Paw's American-made dog products, Zwig is backed with West Paw's exclusive Love It Guarantee™ and have been tested for toughness.
Size: 13.75"/35cm
Why dog owners will love Zwig:
Intriguing shape creates erratic bounce and energy to keep dogs engrossed
Hollow, squishy feel is satisfying to chew, catch or carry
Dishwasher safe
Latex-free
FDA-compliant (meaning it's safe to eat off of)
Love It Guarantee™
Recyclable
Floats
BPA-and-phthalate-free
Made in the U.S.A.
"West Paw guarantees every product we manufacture in Montana – that's all of them.
If your customers are unhappy with the performance of a West Paw product they purchase from you, we offer a one-time replacement or refund (per toy design) for their purchase. It's that simple."