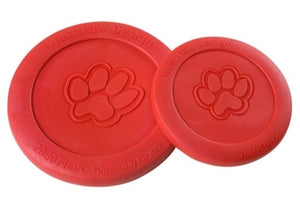 BUILT FOR GENTLE CHEWERS
This high-flying, human-hand-friendly frisbee for dogs is eco-friendly & lightweight yet tough. Gentle on dog's mouthes, Holiday Zisc is soft, pliable, flotable and flies far. With its curled in edges, the Zisc is easy to grip for both humans and dogs. Perfect for fetch and tug-o-war. Forgot your dog's water or food bowl? Simply flip the Zisc over - it doubles as a travel bowl.
Sizes: Small - 6.5"/17cm; Large - 8.5"/22cm
Why dog owners will love the Zisc:
Flies like a hard plastic frisbee
Seasonal Ruby color
Dishwasher safe
Latex-free
FDA-compliant (meaning it's safe to eat off of)
Love It Guarantee™
Recyclable
Floats
BPA-and-phthalate-free
Made in the U.S.A.
West Paw guarantees every product they manufacture in Montana – that's all of them.  
If you are unhappy with the performance of a West Paw product they offer a 
one-time 
replacement or refund for their purchase. It's that simple.