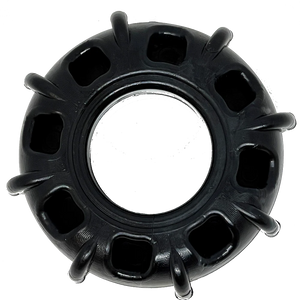 This ultra durable nylon chew and enrichment toy gives your pet an interactive experience with a tire-shaped design that encourages active play. Perfect for indoor and outdoor use, the toy features treat pockets which can be filled with soft foods to extend playtime, providing reward and stimulation. This chew toy is also designed to last
POWER CHEWERS: This nylon toy is designed and built to hold up to even the most aggressive chewers.
ENRICHMENT: Fill the holes on this tire design with soft foods, giving your dog a difficult enrichment challenge that will keep him busy and entertained.
REDUCES PROBLEM BEHAVIORS: Reduces problem chewing, helps reduce boredom, and relieves separation anxiety.
FRESH BREATH: This toy helps keep your dogs's teeth clean and his/her breath smelling fresh.
ONE SIZE FITS ALL: Designed for dogs 15-80 lbs/7-36 kg.
SAFE: Our nylon material is FDA compliant and non-toxic. 
MADE IN USA: Proudly keeping jobs in America. Designed and Manufactured in the USA!
VETERINARIAN APPROVED: Veterinarian Approved.