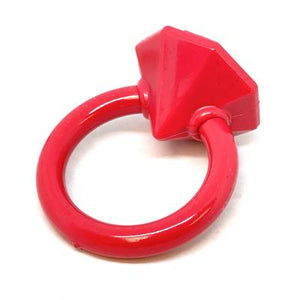 PUPPY CHEW TOY: This ultra-durable nylon teething ring in the shape of a bunny is designed and built to withstand even the most aggressive chewers.  This toy helps keep your dog entertained and solves problem chewing behaviors.

REDUCES PROBLEM BEHAVIORS: Reduces problem chewing, helps reduce boredom, and relieves separation anxiety.

FRESH BREATH:  This toy helps keep your dogs's teeth clean and his/her breath smelling fresh.

SAFE: Our PETstrong material is FDA compliant and non-toxic. 

MADE IN USA: Proudly keeping jobs in America. Designed and Manufactured in the USA!

VETERINARIAN APPROVED: Veterinarian Approved.

DISHWASHER SAFE:  Easy to clean. Place on the top rack of your dishwasher or wash with warm soapy water.

REPLACEMENT GUARANTEE:  We stand by our products and offer a 30 day replacement guarantee.  However, no dog toy is indestructible. Supervise dogs while playing with this toy. Inspect toy frequently. Remove damaged toys. Replace worn or damaged toys or if it becomes too small to chew safely. This product is not intended to be eaten or swallowed. If your dog swallows a piece, take this toy away and contact your veterinarian. 
DIMENSIONS:  4.5" tall, 3.6" diameter.  4.5 ounces For dogs up to 45 lbs.