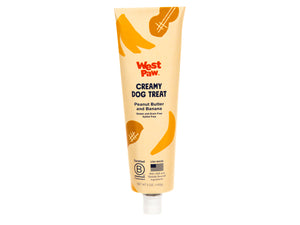 Dogs love peanut butter, and we love treating it with a healthy gourmet upgrade—old-fashioned peanut butter made from just freshly ground peanuts and a kiss of sweetness from real banana. No sugar, no xylitol, no artificial sweeteners (or artificial anything)—just solid, simple nutrition packed into a mess-free tube for happy treating.
Dog owners will love that Peanut Butter & Banana Treats are:
Made with USA-sourced fresh-ground peanuts
High in electrolyte-balancing, muscle-building potassium
Packed with vitamin C for immunity
Loaded with vitamin B6 for hormone regulation
Gluten-free and Grain-free
Xylitol-free
Backed by our Love It Guarantee™

Available in the US only
Moderate peanut butter? Yep, it's healthy! Peanut butter has gotten a bad rap because some brands are sweetened with xylitol, which is toxic to dogs. However, peanuts themselves are quite nutritious: they're low on the glycemic index, full of healthful fats and fiber, and loaded with vitamins and minerals. Since too much fat can become unhealthy, you don't want to go overboard, but as they say—all things in moderation.