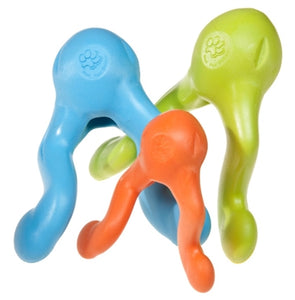 BUILT FOR GENTLE to MODERATE CHEWERS - Play & Treat toy
This cleverly designed eco-friendly treat toy for dogs has multiple functions. Stuff its compartment full of dog's favorite treats and twist the handles to keep dogs busy working to get the treats out. After the dog has figured out how to dig out their dinner, toss it in the air for a fun game of fetch. The aerodynamic shape makes it fly further than typical treat toys and is terrific for tug-o-war.
Sizes: Small - 4.5"/11cm; Large - 6.5"/18cm
Why dog owners will love Tizzi:
Handles "lock" for farther throwing
Open up handles to tuck treats inside
Perfect for tug-o-war
Dishwasher safe
Latex-free
FDA-compliant (meaning it's safe to eat off of)
Love It Guarantee™
100% Recyclable through West Paw's Join the Loop program
Floats
BPA-and-phthalate-free
Made in the U.S.A.
West Paw guarantees every product they manufacture in Montana – that's all of them.
If your customers are unhappy with the performance of a West Paw product they purchase from you, we offer a one-time replacement or refund (per toy design) for their purchase. It's that simple. Visit WestPaw.com for more details.