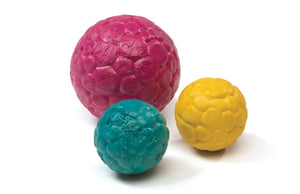 BUILT FOR MODERATE CHEWERS
Light, bouncy and soft enough for dogs to catch with their mouths', Boz™ (ryhmes with nose) dog ball has a durable exterior texture that engages fetch fanatics.
While human hands can't typically squish Boz, dogs can compress the ball between their teeth giving them a satisfying endorphin release. Unlike a tennis ball, Boz is durable, squishy and doesn't contain any toxic glues or lead. Size small fits in a standard ball thrower.
Sizes: Small - 2.5"/6cm; Large - 4"/10cm. Small Boz fits in a standard ball thrower. 
The small is the perfect size for most dogs.  It's the size of a tennis ball.  It's our 85 lb Golden Retriever's favorite toy!
Why dog owners will love Boz:
Textured, squishy dog ball for obsessive fetchers
Lightweight and soft ball for dogs to catch in flight
More durable and safer than a tennis ball
Small Boz fits in a standard ball thrower
Dishwasher safe
Latex-free
FDA-compliant (meaning it's safe to eat off of)
Love It Guarantee™
Recyclable
Floats
BPA-and-phthalate-free
Made in the U.S.A.
West Paw guarantees every product they manufacture in Montana – that's all of them.  If you are unhappy with the performance of a West Paw product they offer a one-time replacement or refund for their purchase. It's that simple.